SocketWrench includes managed .NET classes, ActiveX controls and libraries, with support for both 32-bit and 64-bit Windows platforms.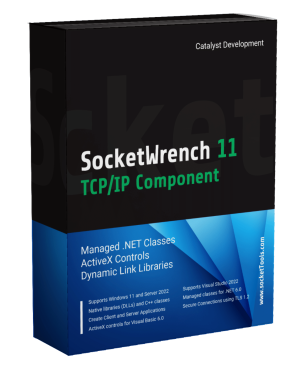 SocketWrench can be installed with a fully functional thirty (30) day evaluation license. We provide technical support for installation and redistribution. Please contact us if you have any questions.
By downloading and installing SocketWrench, you are agreeing to our Terms and Conditions, and the License Agreement for this product. You agree that we may contact you about product updates, new releases and promotional offers for upgrades and new license.
We will never share or sell your private information to affiliates or third parties, as stated in our privacy policy.
SocketWrench requires Windows 7 SP1 or Windows Server 2008 R2 or later versions of the Windows desktop or server platforms. Both 32-bit and 64-bit Windows platforms are supported for development and redistribution. SocketWrench fully supports Windows 11 and Windows Server 2022, including Windows Server VMs on the Microsoft Azure platform.
A trial version of SocketWrench can only be used by the developer who installed it and the components cannot be redistributed to another system. After the evaluation period has expired, you may choose to purchase the product and upgrade the evaluation license to a full development license. Technical support is available for installation and redistribution issues.
An evaluation license can be converted to a development license without requiring you to reinstall SocketWrench. Purchasing a license will not impact any applications that you have developed during the trial period. They will continue to use the same SocketTools components and you will be able to redistribute them to your end users.
Having trouble requesting a download? Click here.