SocketWrench 11 includes managed .NET classes, ActiveX controls and libraries, with support for both 32-bit and 64-bit Windows platforms.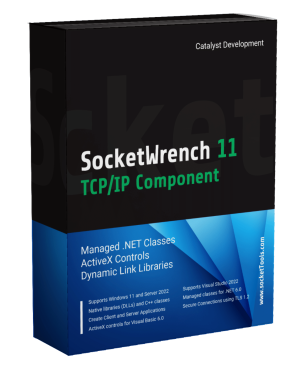 The minimum system requirements are Windows 7 SP1 or Windows Server 2008 R2 and later. Visual Studio 2010 and .NET Framework 4.0 and later versions are supported. Documentation and examples are included with the installation package.
SocketWrench can be installed without a serial number, which will provide you with a fully functional thirty (30) day evaluation license. Please contact us if you have any questions.
Download information will be emailed to the address that you provide. By downloading and installing SocketTools, you are agreeing to our Terms and Conditions, and the License Agreement for this product. You agree that we may contact you about product updates, new releases and promotional offers for upgrades and new licenses
Having trouble requesting a download? Click here.